We are passionate about trying out new ideas, materials, methodologies, and building innovative products to make a better world. Our primary focus is on research and development. We strive to be a pure play technology company, Hybrid IT services builder, product engineering expert, global system integrator, consulting firm, and managed service provider.

The Bhojpur Consulting is a technology product specialist only. We invest financial resources, human efforts, and time in the process of development of new knowledge and high performance algorithms. Our primary interest is focused towards product architecture and design, source code development, hardware innovation, functional and non-functional testing, performance tuning, technical documentation, enhanced support services, etc. to achieve customer's delight. Though we have our own integration services team of a limited size, but we want to increase the footprint of our products and services. Therefore, we tend to engage closely with some market leading system integration partners globally who play a very important role in custom implementation of our products to suit client's business and technical requirements. We enable them with required hardware or software tools, advanced technologies, and services (e.g. partner training, priority technical support) to be successful in the business.
We design and build high performance software or hardware products that are world class and delivered to the clients globally in a Hosted Service model. We work with small & medium businesses and large Enterprises. Our solutions are applied in multiple industry sectors (e.g. telecommunications, healthcare, banking, financial services, insurance, retail, logistics, manufacturing) that demand truly high performance. We are always trying to find and apply optimal techniques to meet web scale needs in a multi-cloud Hybrid IT environment.
We are open for discussions and ready to listen to important feedback that would improve our products and services. Please feel free to connect with us.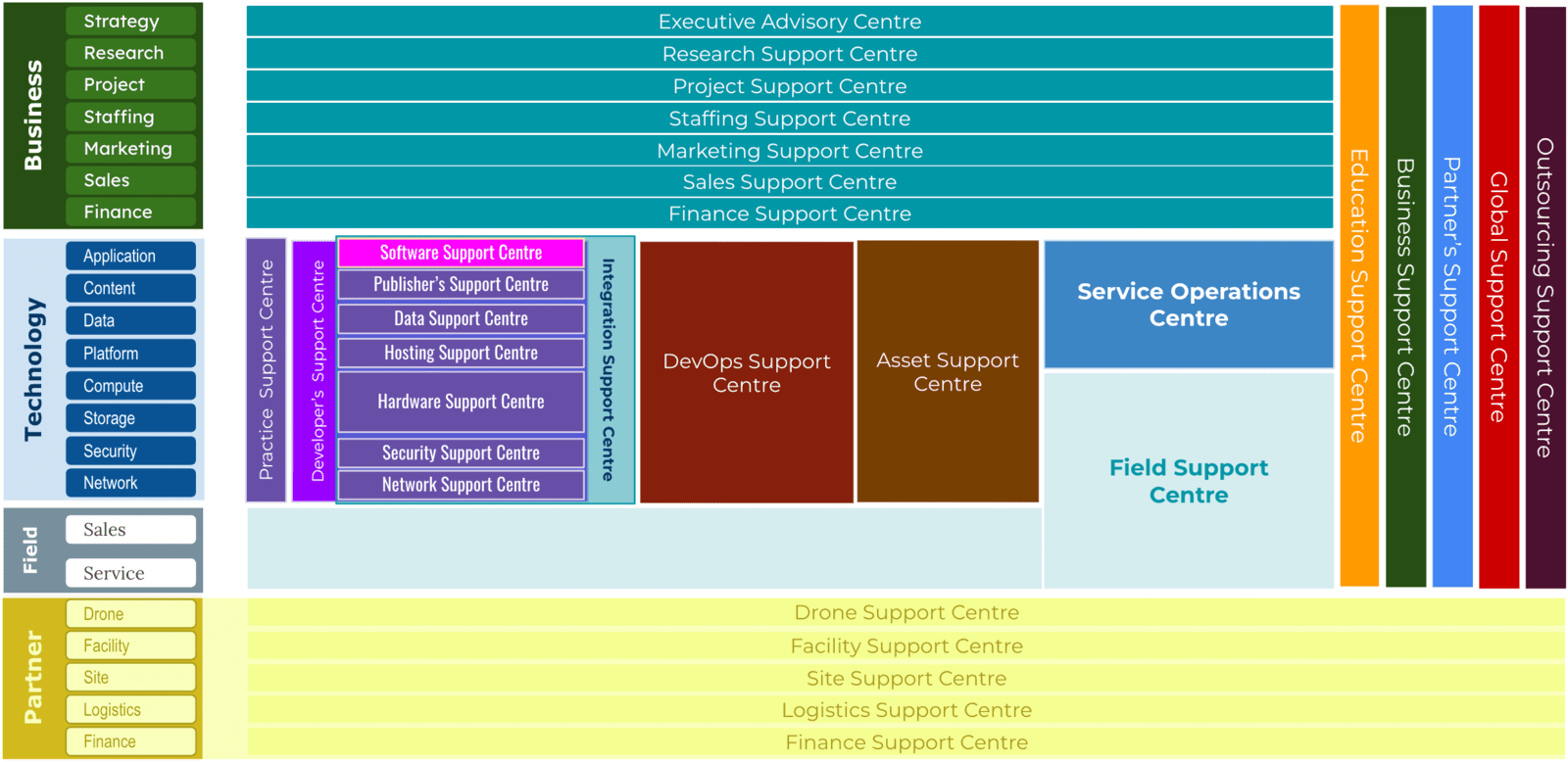 Service-oriented Organisation Structure
We apply innovative methods to deliver work products. Our project activities or tasks are driven by 100% workflow automation.
By design, the structure of company (i.e. Bhojpur Consulting) supports service agility. It can scale any part of business easily at a global level. We apply state-of-the-art digital technologies and service-oriented architecture based on a global operations management platform (OMP). All the service management capabilities of Bhojpur Consulting are secure, multi-tenancy enabled, delivered globally, and governed by custom OMP. Each project activity or task is governed by well-defined service level agreements (SLA) between engaging parties. The OMP provide service orchestration and end-to-end visibility. It is used by several teams internally to drive our corporate strategy, innovation, product development, hosting, and support services. The OMP is available to our affiliates and strategic accounts for business-to-business (B2B) engagement.
We offer a collection of web-based, self-service Service Desk portals accessible to engaging parties for each service domain covered by the company. This collection of Service Desk portals provide a high-level external view evident to the public. However, the organisational structure is implemented in terms of multiple divisions, departments, project groups, and teams. The staff members are assigned role-based access to support one or more Service Desk portals.
Depending on the nature of business engagement, a combination of service offerings might be accessible to our key strategic accounts or business affiliates. Your role (e.g. project manager, software developer, support engineer) determines the user access provided. Some portals are accessible to internal teams only. Others might be accessible to key strategic accounts or partners only. Our service-oriented architecture is a unique selling proposition to large enterprises. We support shared-services, dedicated technology delivery centre, managed service provider, and multiple outsourcing models using OMP.
Apart from industry or market or product research, ideation, technology prototyping, product development, hosting, and delivering the Bhojpur Consulting's products & services online over the Cloud, we have developed a strong ecosystem of system implementation (i.e. resellers, partners, premium partners) and support services affiliates globally to avail high-quality services to customers locally in different geographies.

We build high performance technology solutions to cater to business requirements of small, medium, and large enterprises. Our products and services are designed to scale seamlessly for very large deployments of the communication service providers, oil & gas companies, energy & utility firms, defence, and government agencies. It applies decentralized architecture. Such technology adoption projects have more involved B2B sales cycle and need complex system implementation support (e.g. hardware/software installation, maintenance, repair, warehousing, logistics, user training) due to its geographically distributed nature of resource. Our business partners help us achieve team scalability during client's engagement, technology deployment, and organisational change management. Such capabilities become even more important whenever the technology adoption initiative happens across the client organisation at a global level. We work with security cleared and authorised representatives only. Our affiliates get secure access to premium quality content, training material, and priority treatment to our managed services covered under an independent contract agreement.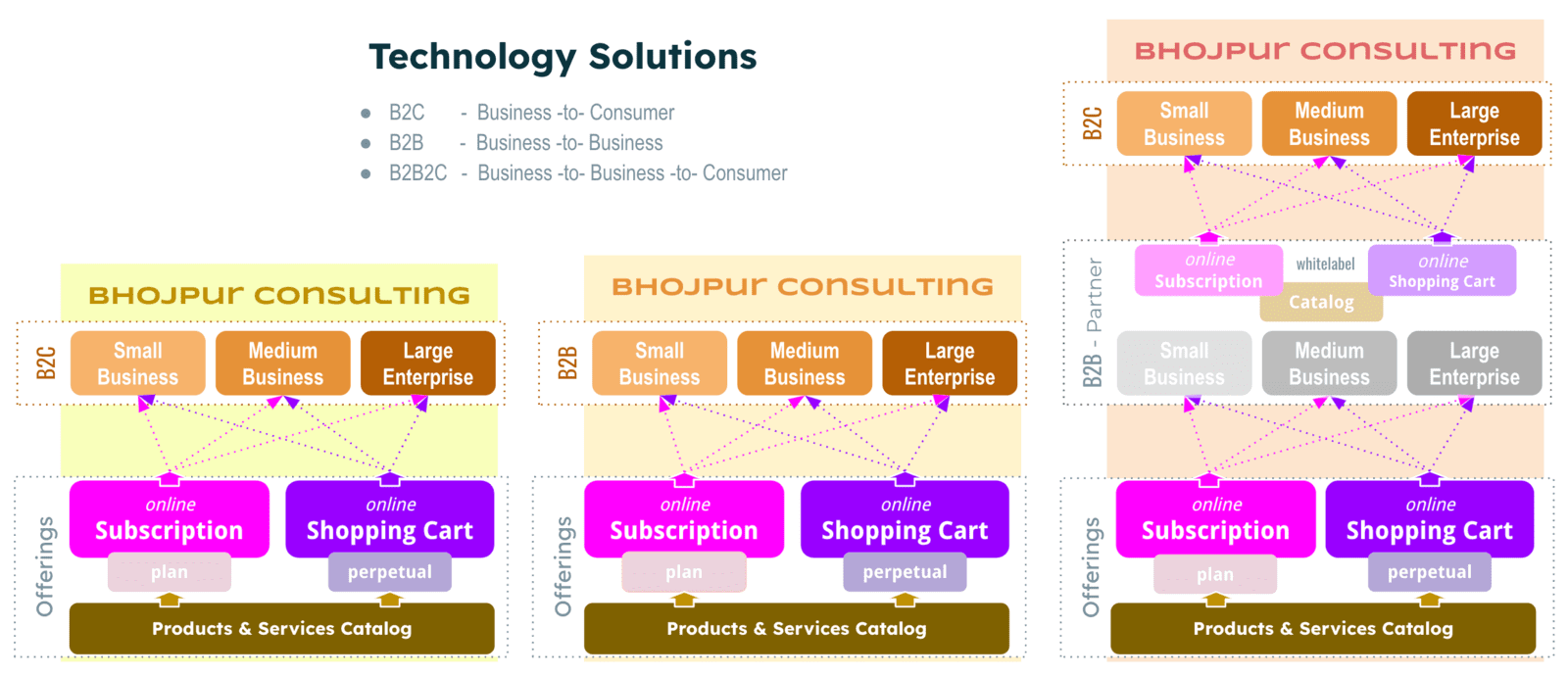 We have developed a web-scale, software-driven framework, known as operations management platform (OMP) that powers our entire business globally. It features flexibility, multi-tenancy, multi-service integrator (MSI) capabilities to support a wide range of business models. While the OMP is very efficient at supporting digital service provider (DSP) capabilities, it integrates with our field service management (i.e. demand-side) platform and field service management (supply-side) platform to support field marketing, sales, and customer services in the physical world. It includes end-to-end work order management (WOM) capabilities for the business. The OMP system is the heart of Bhojpur Consulting's service delivery capabilities. Therefore, it is integrated with many more systems using SOAP and/or RESTful APIs.
On the demand-side, the FSM platform is pre-integrated in this following manner. It is designed to handle physical world marketing & sales activities for the B2C and B2B segment. Considering its ability to track field sales representatives, their opportunity conversion, order wins, and travel activities the Sales Manager uses it primarily for sales force automation (SFA). It is one of our core capabilities. Typically, it is applied to provide Managed Field Sales in different industry sectors (e.g. retail).

On the supply-side, the FSM platform is pre-integrated in the following manner. It is designed to handle customer service for IT, Network, Security, and other kind of operational support required from smart hands in the field. Considering its GPS-enabled staff tracking abilities, it helps in assignment of field jobs dynamically to available field technicians based on pre-configured rules. Our affiliates could be engaged by us to provide on-demand field support services to the clients in different geography across the globe. The OMP and FSM system handles required legal and security compliances to meet business needs of our clients.

Typically, the FSM is used to provide in managed field support (MFS) services to large enterprise clients in different industry verticals (e.g. maintenance & repair operations for utilities, managed IT support, network cabling, cloud data centre, cellular towers, drone logistics, defence, ATM cash delivery for banks, ambulance for healthcare, food delivery services). Also, some client projects require complex coordination between multiple teams belonging to different organisations. Our platform looks at it in a unified way. It is designed to handle such complexity very easily. Using artificial intelligence models, certain key decisions are taken automatically in a dynamically changing field environment.

Our affiliates get seamless access to global OMP through a dedicated Help Desk portal (i.e. Partner's Support Centre) and multiple secure communication channels (e.g. Online Forms, Email, intelligent text chat). They are provided early access to our product roadmap, delivery plans, technical documentation (e.g. end-user guides, product manuals, web services APIs), marketing content, and audio/video training materials through the Help Desk portal.
Under a separate contractual agreement, they get priority access to our Managed Support services through a dedicated team of Technical Support Agents. It enables them resolve troubles faster for the end-customers.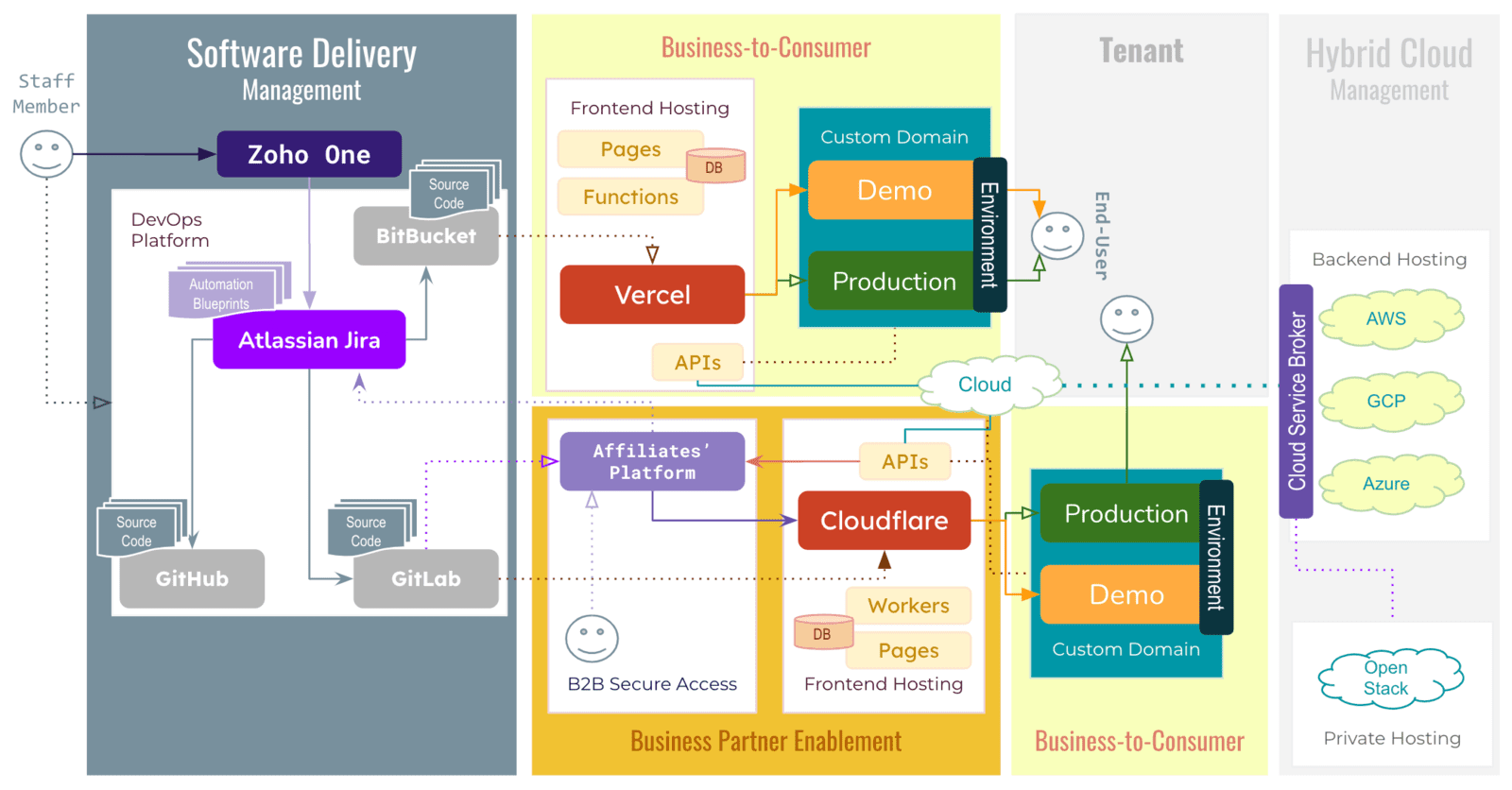 Business Partner Enablement
We have implemented a custom developed software solution to enable our business affiliates so that they keep track of all business activities without any limitations. Our partner relationship management (PRM) has an integrated digital content management, marketing automation, product & service catalog management, subscription management, invoicing & payments, customer management, technical support services, contract management, project management, etc capabilities which are integrated with the global operations management platform (OMP).
We design, build, and host high performance software products by leveraging Cloud-hosted services to suit your customer's needs. The hosted services are designed to run faster and nearer to customer's location. It is delivered using Edge Computing infrastructure. All of our business practices are pre-defined in the OMP. You can keep track of all the deals end-to-end.
Our hosted products are delivered through a complex set of tools and technologies. However, your staff members can access every aspect of the solution delivery on a 24x7 basis using any device from any location connected through the Internet.
Our resellers cater to small & medium business segment's sales growth in a specific geography. These channel partners are responsible for
Bhojpur Consulting's Product License

Technology Deployment

Customer Support Services
They tend to bundle few other 3rd-party products or services along with our solution.
Our relationship with them is more transactional in nature. They might decide to subscribe to priority support services, if needed.
Our partners cater to large enterprises and communications service provider market segment. They offer value-added services based on industry knowledge and expertise. These channel partners and support service partners could be engaged to manage large technology projects. They are responsible for
Bhojpur Consulting's Product License

Enterprise Digital Transformation

Complex IT System Implementation

Application & Data Migration

Organisational Change Management

Managed Customer Support Services

Business Process Outsourcing
They offer a comprehensive range of IT-enabled service capabilities and broad partner ecosystem. Their core competencies include Hybrid IT, Network, and Security system implementation. Additionally, they have experience in several other emerging technology areas (e.g. Blockchain, IoT/M2M, Robotics, Drones).
We engage with them in a more strategic manner through partnership agreements. The scope of work, roles and responsibilities, service offerings, etc are well-defined in advance. Even though a specific project engagement might be delivered together, but client's success accountability remains with the partner.
Our system integration team provides full support to make the client project successful.
Like partners, our premium partners cater to large multi-national corporations and service providers in different industry sectors. They are responsible for
Bhojpur Consulting's Product License

Enterprise Digital Transformation

Complex IT System Implementation

Application & Data Migration

Organisational Change Management

Managed Customer Support Services

Business Process Outsourcing
They are

global system integrators

(GSI) or

multi-service integrators

(MSI) who can reach broad markets to support client's business needs.
We engage on a long-term basis using a strategic partnership agreement to provide highest level of trust among our prospects and customers. Both the companies combine their best resources to provide best products & services to the target customers.
Under a separate license agreement, they might get read-only access to our proprietary software source code to able to review and identify bugs, if any, and fix the trouble together at the earliest.
All the key strategic accounts are treated equal to our premium partners.

Additionally, all affiliates get access to the following sales & support enablers
Developer's Sandbox Environment

Technical Documentation




Online or Classroom Training
A dedicated team involved in market and product research activities works very closely with industry experts to find out emerging trends in technology sector, and other areas. They conduct feasibility studies, business model innovation, and provide necessary inputs to internal product and service management teams.
We offer this service to key strategic accounts under separate contract agreement to support our co-innovation initiatives.
Our approach towards building useful technology is based on simple ideas around inclusive continuous innovation by applying DevOps principles. Though our team members are located in different parts of the world, they contribute certain local knowledge, experience, and cultural influence to build world class products that meet most of user's need. We contribute to the global community with some open source software products or frameworks built by us. It is designed for Software Developers to ease their day-to-day work.
Our team is engaged with key strategic accounts to build high performance technology solutions jointly. The technology DevOps centre (TDC) has created an end-to-end solution delivery methodology based on the Atlassian Jira platform to manage distributed knowledge assets, workflow, and business process more effectively.
The Bhojpur Consulting's team has identified and conceived certain technology focus areas based on primary research conducted annually.
The technology development team has designed and developed proprietary software development frameworks, hardware tools, and technologies that are used by our R&D team members to build innovative technology solution.
X-as-a-Service

vs.

Self-hosted options
Most of our technology hardware and software products are designed and developed by us can run in a vendor-agnostic environment. It is available in both licensing and deployment model (i.e. X-as-a-Service and self-hosted).
Being born in the Cloud, we built our technology solutions with a clear mandate that business continuity, security, high performance, and distributed elastic-scalability are primary requirement. We apply DevOps paradigm and toolchain to manage our hosted solutions end-to-end. Our product planning, development, testing, release, deployment, and hosting operations are fully automated and driven using AI/ML models to ensure that lights are "ON" always and your business in least impacted in case of any disaster.
We can assure you that customer service team will provide world-class technical support using multiple channels. All of our hosted applications, services, components, and dependencies are monitored continuously on a 24x7 basis by a dedicated Cloud Operations management team.
Bhojpur.NET platform: Web-scale Performance
Our software products are designed to leverage Bhojpur.NET platform, application programming interfaces, decentralized application architecture natively. It features key enablers to deliver very high performance applications using geographically distributed resources in an Edge Computing scenario. This platform is developed using JAMstack technologies and Go programming language, but offers web services APIs in multiple programming languages (e.g. JavaScript, Python, Rust, Go, Java, C/C++). It is designed to support multi-cloud service capabilities.
Typically, our Cloud-hosted software solutions are deployed based on the following deployment pattern.
Presentation tier - It serves the end-user directly through web-based or mobile software applications. Delivered using carrier-grade security, ultra low-latency content delivery networks, and 300+ Edge Cloud data centre locations globally (i.e. nearest to end-users) to be able to the manage peak demands automatically at any scale. We use state-of-the-art JAMstack software frameworks and function-as-a-service (FaaS) offerings from some of the market leading companies. Majority of our software is developed using some variants of React, Angular, Vue.js, and Web3.0 framework to keep it simple, efficient, portable, and compatible with emerging industry standards. We apply GitOps paradigm internally. Our technology solutions are based on the core principles of distributed intelligence.
Service tier - It is accessible by authorized presentation-tier components only using HTTP/S and/or TLS/SSL protocol. Delivered from more than 50 edge data centre locations, it serves as a primary control gate for managing security breach. We have implemented several RESTful or SOAP-based web service APIs and webhooks for third-party service integration. A set of topics or event queues using industry standard message-oriented middleware technologies are applied to support asynchronous and synchronous transaction with high durability. Additionally, this service-tier serves as a traffic routing centre in case of natural disaster or unintended failures.
Business tier - It is accessible by authorized service-tier components only using HTTP/S and/or TLS/SSL protocol. Delivered by a Hybrid Cloud (i.e. built using AWS, GCP, Azure, OCI, IBM, DigitalOcean, OpenStack, and Bhojpur DCP instance) from more than 30 global data centre locations, it is maintained by our staff members. It enables high-availability service, transactional reliability, and enterprise-grade security control enforcement for all the software applications and data services. In majority of scenarios, we utilise Node.js, Python, Go, Java, C#, C/C++ programming language depending on specific use-case requirements and performance expectations.
Database tier - It is accessible by authorized business-tier components only using HTTP/S and/or TLS/SSL protocol. Delivered by a Hybrid Cloud (e.g. including AWS, GCP, OCI, IBM, OpenStack, and Bhojpur DCP instance) from more than 10 global data centre locations, we use GraphQL enabled database technologies for complex data virtulization. Apart from applying our own distributed database management systems, we do leverage industry standard PostgreSQL, MySQL, MongoDB, Redis databases. It has enabled us deliver data portability across systems. The data could be imported or exported easily in any standard format as requested by the customers.
There are additional tiers applied in the service operations centre (SOC) by our Hosting Services team.
Contributing to Open Source Software
Using some of the market leading free and open source software (FOSS) products and a few proprietary software development frameworks based on Go, Python, Node.js, Java, C/C++, or Javascript programming language, we have developed several enterprise-grade software products (e.g., shopping cart, point of sale system, customer relationship management system, supplier relationship management system, product lifecycle management system, contract lifecycle management system, application lifecycle management system, service lifecycle management system, etc) to deliver digital business efficiently.
100% B2B Security Assurance
For business-to-business (B2B) exchange of digital assets (e.g. application software, end-user licenses, proprietary enterprise data, analysis models, digital images, audio/video, and so on), we have custom designed and implemented tools, technologies, quality assurance checks, business rules, security policies, and standard operating procedures to deliver enterprise-grade solutions
Industry-specific Solutions
We own intellectual property in terms of industry-agnostic enterprise software solutions
Distributed Cloud Platform

Smart Contract Management
We apply our own industry-agnostic software frameworks to build complex IT solutions suitable for specific verticals. Additionally, we have developed several industry-specific technology solutions.
For example
Defence Operations Platform for government

Digital Pathology based on optical data engine

Property Management System for realtors

Yard Management System for shipping ports



We avail latest knowledge online on a 24x7 basis to all interested technology solution builders. A very comprehensive information about the platform and application programming interface is available. Please feel free to go through it.
Digital Content Publication
We have a dedicated team of content designers, developers, and distributors who are responsible for delivering high-quality e-Learning material in multiple formats (e.g. .pdf, slide-deck presentation, audio/video lecture). The product knowledge base is maintained by this Publication Services team.
This team works very closely along with technology developers and writes original end-user guides, system administrator's manual, SOAP or RESTful web services API documentation, technical reports, case studies, support articles, and so on.
We offer these services to key strategic accounts in TDC engagement under separate contract terms..
After the product sales cycle ends, we can provide different services during system implementation. The complex system integration team has gained expertise in delivering complex projects to suit your needs.
Our system integration services are not limited to own products only. In fact, this team is capable of integrating a broad range of third-party systems.
After deployment, we can offer end-to-end support for your Hybrid IT, Network, Security, etc. needs under Managed Services contract agreement. We have shared or dedicated team options depending on you scale of business.
Our internal teams are organised according to the products or hosted services, Hybrid IT, Network, Security, Cloud Data Center Infrastructure, and DC Facility related skills.
Business Support Services
You could opt to engage us to run certain parts of business operations through outsourcing model. We have a comprehensive package to fulfil such requirements.
We apply our own industry-agnostic software frameworks to build complex IT solutions suitable for specific verticals.
Additionally, we have developed several industry-specific technology solutions.
The Bhojpur Consulting can consistently deliver a broad range of IT enabled services based on well-defined service level agreement (SLA) to small, medium, and large enterprises at any scale. We avail either shared or dedicated Factory Model approach to our service offerings. It is used by different divisions, departments, and project groups internally across the company to plan, design, build, test, deploy, host, and support our own technology products and services. Using a service-oriented approach, professionally trained human resources, global operations management platform (OMP), Cloud-hosted technology infrastructure, shared sites or facilities, and unique designed methodology based our knowledge and experience, we deliver metrics driven, high quality, custom developed technology products and business services to multiple clients from either offshore, nearshore, or onshore locations globally.
Our factory model leverage market leading business process management (BPM) system to attain 100% visibility into all of the business activities related to our IT enabled services. We have custom designed and implemented several workflow automation blueprints to achieve operational efficiency and business excellence. Using industry standard compliant, secure Web Services (e.g. using SOAP or REST) APIs, our OMP can integrate seamlessly with strategic accounts or business affiliate's systems through B2B gateway server.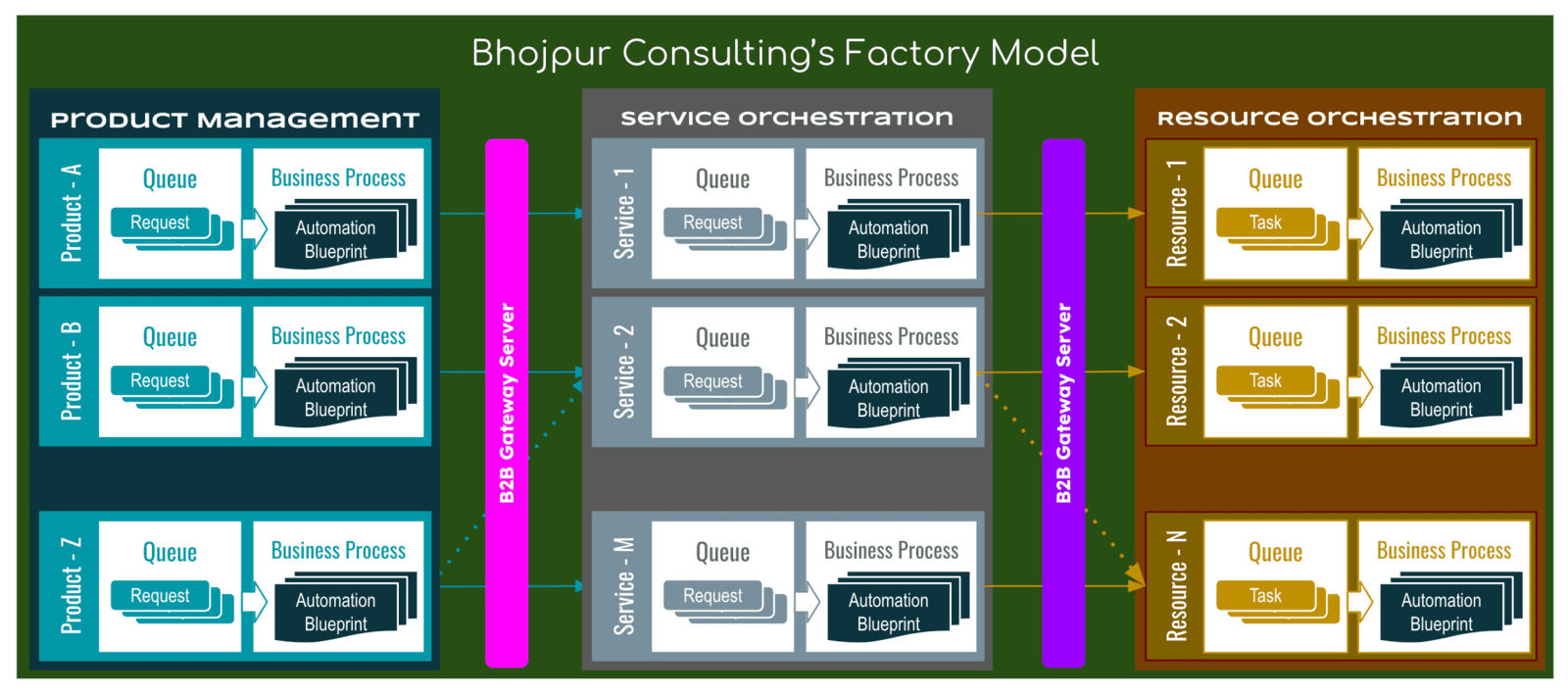 Perhaps, the entire Bhojpur Consulting organisation could be viewed from a product-focused and service-focused perspective. The organisational structure is implemented around the core concept of deliverability of business capabilities (e.g. related to products & services catalog management, marketing, sales, customer service, technology development, complex system integration, hosting services, Hybrid IT / Network / Security operations, field services, user training, technical documentation, professional services, asset management, forward/reverse logistics). Each business capability is related to certain product offerings and exposes a set of web-based services that are handled by a group of processors or resources (e.g. human experts, IT systems). The information flow among key components of business capability is reliable, durable, and mediated through a secure multi-channel message-oriented middleware platform.
As Tenant - 0, different business divisions use organisation's service capabilities internally to build, host, and manage our own products and services. We offer hosted products in "X as a Service" delivery model. Each OMP delivered business capability is multi-tenant by default. A specific Tenant (e.g. strategic account, business partner) can leverage a combination of our business capabilities to create unique solutions and engage with us on a contractual basis. We promise to deliver measurable outcomes based on well-defined SLAs using a globally distributed team, if required.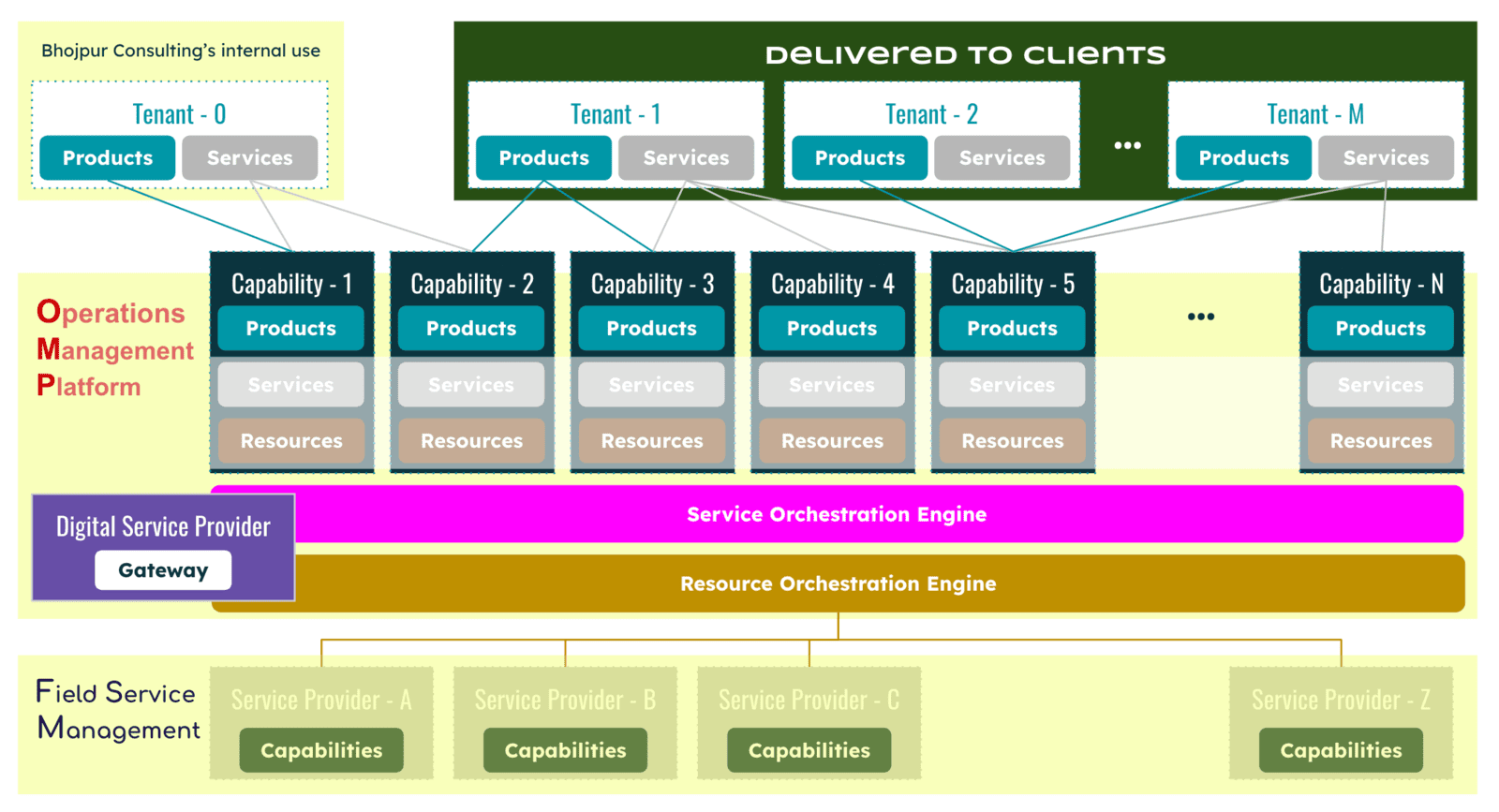 The OMP has very powerful multi-layer orchestration engines to meet any technology related system integration challenge. The service orchestration (SO) engine handles medium-cycle or long-cycle service request either synchronously or asynchronously using automation blueprints. It is responsible for service management related to certain offerings. The resource orchestration (RO) engine handles short-cycle jobs either synchronously or asynchronously using automation blueprints. It is responsible for interfacing with the human resources or other orchestration systems (e.g. Cloud Management Platform).
The OMP is pre-integrated with the digital world using RESTful web services and digital service provider (DSP) gateway server. It is designed to support non-field jobs only. We leverage this business-to-business (B2B) middleware to enable seamless multi-tenant service delivery capabilities for key strategic accounts and communication service providers.
The OMP is pre-integrated with the physical world using RESTful web services and Bhojpur Consulting's field sales management (FSM) platform. It has an independent Help Desk portal (i.e. Field Support Centre) that is used by customers to engage directly with the Field Services team.

The FSM platform is implemented to cater to both demand-side and supply-side IT enabled services for our clients. It features work order management for different kind of field jobs (e.g. Field Sales Executives, Field Service Technicians). We leverage it for providing on-demand smart hands or managed Hybrid IT, Network, Security, GIS data support or other field services (e.g. Logistics, Drone Delivery). The FSM platform integrates with a wide range of resource orchestration (RO) engine.
We build custom Information Technology solutions for small, medium, and large enterprises. Our technology stack can meet communication service provider's web-scale requirements also.
For the benefit of our key strategic accounts, our expertise in product development, engineering, and maintenance is available as a Managed Service offering. The client can focus on marketing & sales, and our team handles the rest for them.
We have significant experience in technology product internationalization (I18N) and localization (L10N) to suit different cultural needs.
Our Managed Services team has gained expertise in operating technical assistance centre (TAC) on behalf of clients. Such engagements help offload Customer Service activities to us.
We setup a dedicated team and custom implement business processes related to technology support.
The virtual project management office (vPMO) has developed a set of reusable business process management (BPM) blueprints and workflow automation templates that enable us deliver a broad range of technology implementation projects successfully and consistently. Our multi-cultural and distributed team has significant experience in applying Agile Project Management methodology.
We could contribute with our knowledge, skills, and experience in driving enterprise Digital Transformation initiatives. Our team has exposure to several industry-specific practices and implemented vertical-specific solutions (e.g. retail, logistics, manufacturing, banking, financial services, insurance, media, healthcare, life sciences, telecommunications). Our solution accelerators help you gain competitive advantage quicker, deliver high quality, and consistent results.
We have several man-years of experience in system implementation of complex enterprise IT systems (e.g. Microsoft Dynamics 365, Salesforce CRM, ServiceNow ITSM, Workday, Zoho One platform, and more), telecom B/OSS, and Distributed Cloud engineering. Our team integrates a broad range of technology solutions for the Digital Age.
The IT solution delivery service is scalable, repeatable, auditable, and driven based on a factory model using workflow automation blueprints configured in our business process management (BPM) engine hosted on the secure Cloud platform.
After delivery of IT system implementation projects, we can provide managed support services based on SLAs to the enterprise clients on a 24x7 basis through a dedicated team of IT Support engineers.
We have experience in design, implementation, and operating full-service call-centre support on behalf of large enterprise clients. A dedicated team can manage customer service on a 24x7 basis.
We provide full-service managed business support through Outsourcing Services offering, if required. The client can rest assured about 24x7 operations based on SLA.
We have Functional Consultants, who can review and customise your business processes to suit digital enterprise models.
We engage and communicate with key stakeholders (e.g. customer, partner, supplier or vendor, employees) regularly in classic mode (e.g. offline events, conference, exhibitions) and using digital techniques (e.g. newsletters, online webinars, Emails, phone, SMS or text messages, intelligent chatbots, audio/video chat).

The Bhojpur Consulting's products & services are available online to the potential buyers or existing customers directly through multiple systems of engagement (e.g. shopping cart, subscriptions management platform). Our online system features complete information about each product and service that we sell, different licensing models, detailed pricing information, rating & charging methods, applicable taxation, product availability options, and various payment methods. Depending upon the geographic location of the buyers, we support credit/debit card, net-banking, digital wallet, etc. transactions. Alternatively, we accept offline payments through standard financial instruments (e.g. cheque, demand draft).
We distribute most of products and services through a network of authorised distribution channel partners. So, we have implemented business-to-consumer (B2C), business-to-business (B2B), and business-to-business-to-consumer (B2B2C) model. Besides a well-defined sales commission structure programmed in our fully automated rule driven IT systems, the channel sales partner get privileged marketing & sales support from us. We provide access to blended training, privileged content, developer sandbox, marketing collaterals, high-priority support for tickets, etc.
We have developed a strong ecosystem of affiliates (i.e. resellers, partners, premium partners) globally to avail technology solutions to the customers locally in different geographies.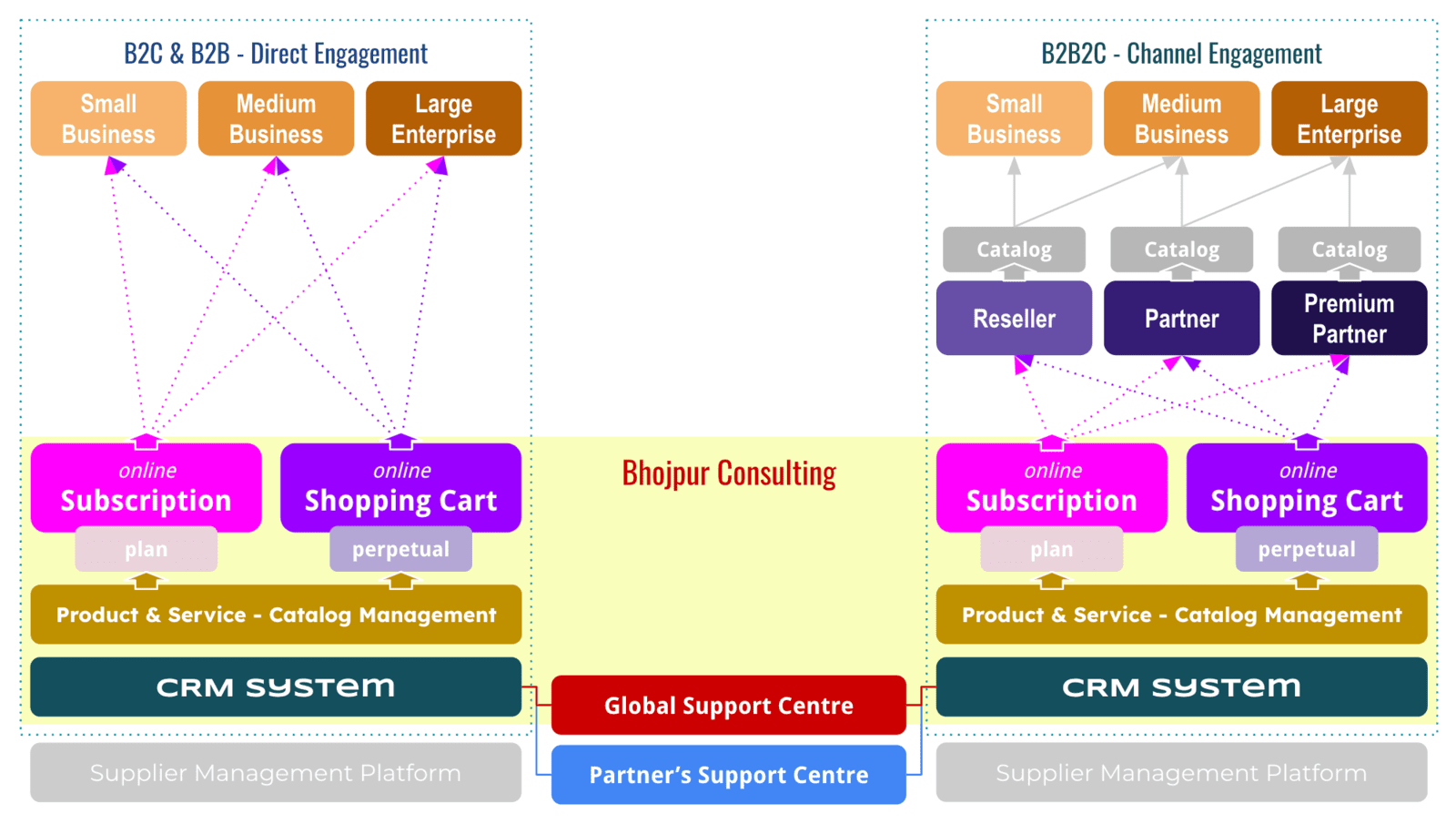 A dedicated products & services catalog management (CM) team and several solution-specific marketing & sales teams are responsible for B2C, B2B, and B2B2C engagements. The Sales team has full access to global customer relationship management (CRM) system, which is based on the Zoho One platform. After lot of custom software development, it is pre-integrated with our multi-channel inventory management system, order management, shipping, logistics, and partner's system. Our CRM instance is pre-integrated with a global operations management platform (OMP) which is the heart of all our business logic behind the scene. From a high-level perspective, the OMP works in the following manner: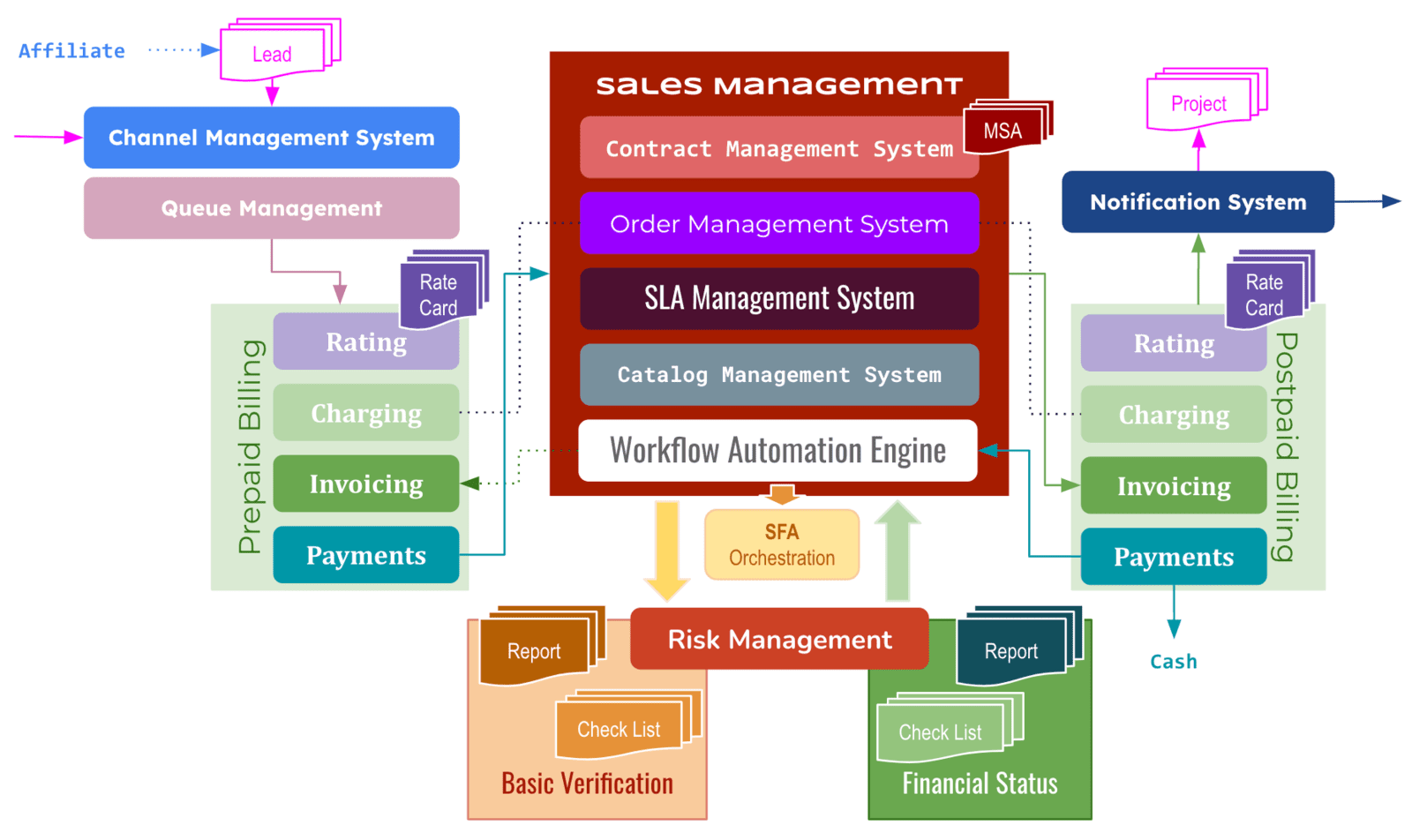 The OMP has built-in product-specific workflow automation blueprints, supported by service orchestration (SO) engine and resource orchestration (RO) engine capabilities. It integrates with partner systems through B2B Gateway Server. The OMP is fully responsible for automated routing of communication with the Sales teams working in different parts of the world. Due to document assembly automation for the CPQ, it is capable of handling multi-party, complex contracts, and large deals with minimal human intervention.

The OMP is pre-integrated with our salesforce automation (SFA) or field sales management (FSM) platform to track global sales pipeline. Several workflow automation blueprints drive the entire multi-party sales process seamlessly using distributed teams. It is powered by artificial intelligence models to make certain decision automatically.

The FSM is primarily a glorified salesforce automation (SFA) system. However, the key competitive advantage of our platform is its multi-tenancy enablement that empowers us to deliver Managed Field Sales service using the same system securely to multiple clients across the globe. We gain a unique ability to work securely with multiple Sales teams on a complex multi-party deal even if they belong to different organisations structured in complex hierarchy. The platform helps us in working on such complex projects by eliminating the deal management headaches.

We provide basic customer support services completely free-of-charge to all the subscribers of Bhojpur Consulting's products and/or services.
Additionally, we offer high quality, enterprise-grade, customer support services globally to all the paying clients on a 24x7 basis. The online Global Service Centre - Help Desk portal can be accessed by clients using any mobile device or personal computing system (e.g. based on Linux, UNIX, Apple Mac OS/X, Microsoft Windows). Our customer support system is accessible using web-based or mobile applications (e.g. based on Android or iOS). The Help Desk portal is supported by a dedicated team of professionally trained IT Support Services staff members, who belong to specific departments or divisions. These experts have full access to frequently asked questions, latest technical documentation, knowledge base about about Bhojpur Consulting's products and services. They can resolve your trouble tickets faster.

A paying subscriber (i.e. enterprise customer) can raise a service request online. Based on severity, priority, and workflow automation, it is routed to our Level-1 support agent using skills-based rules. The reported problem is analyzed by some AI/ML driven trouble classification engines, enriched with additional information, and then assigned to team member for further analysis. A suitable technical response is identified and communicated to the client depending on the service level agreement (SLA) of the reported trouble ticket. Typically, a problem is expected to be resolved within 24 ~ 48 hours. However, some troubles might take more time depending on its prior knowledge, complexity, and reproducibility. You have several optional plans to choose from to get a better Technical Support with enhanced SLAs.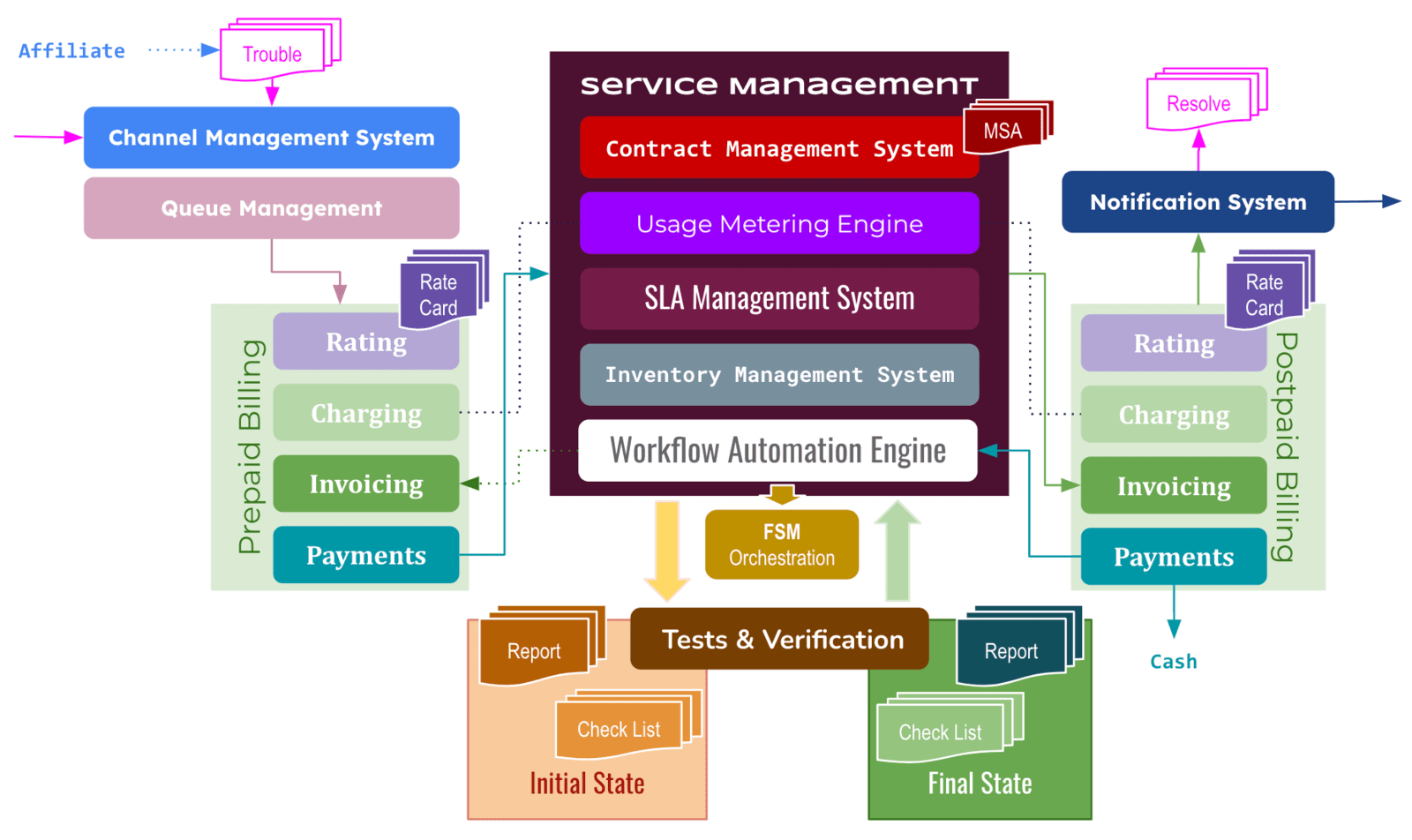 A prospect or customer might choose to get support services directly from the Bhojpur Consulting. Alternatively, the client could engage locally with our affiliates to get support services. Generally, our affiliates subscribe to some paid technical support plans to get higher SLA from us. They have access to the Partner's Support Centre, a Help Desk portal connected to the operations management platform (OMP) driving our customer service management capabilities at a global level. The OMP is supported by a dedicated team of technology experts. The OMP connects securely with authorized B2B Gateway Server for seamless integration with other business.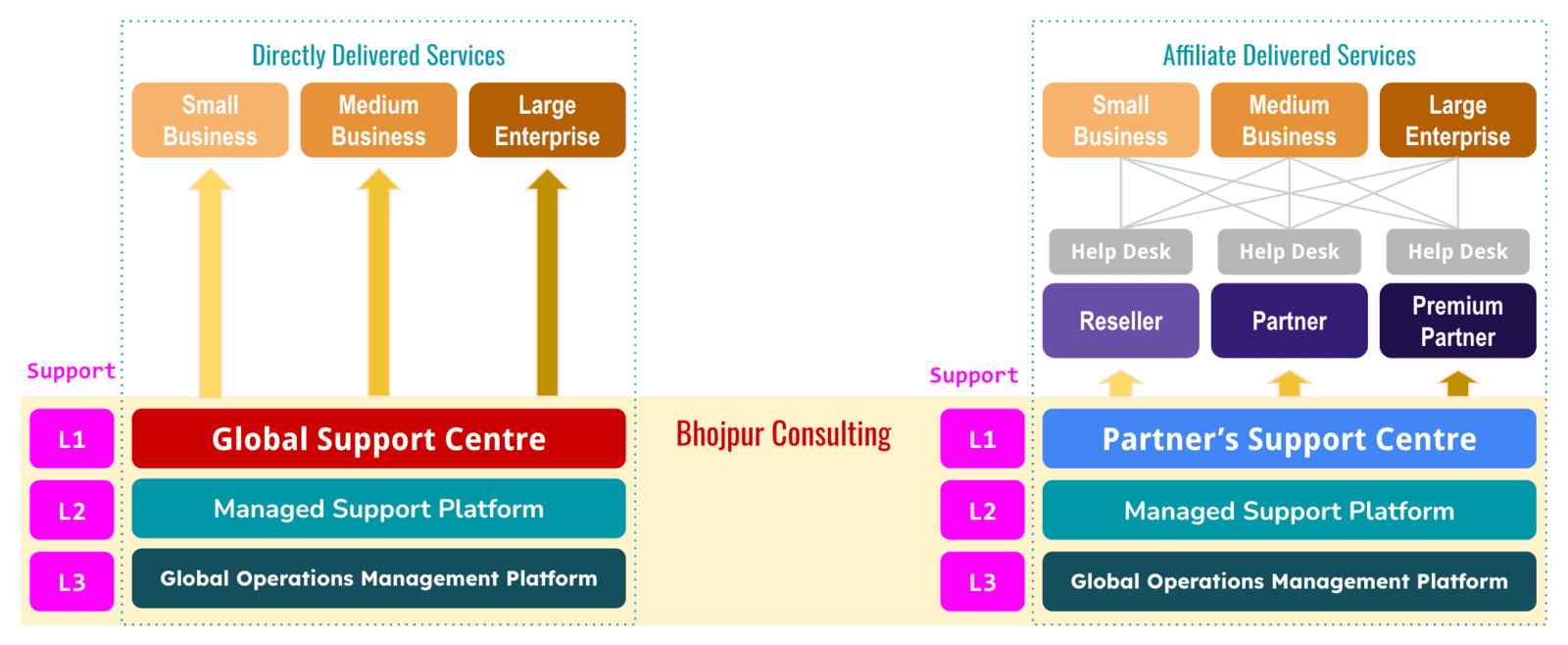 Whenever our Level-1 support team is unable to resolve a reported problem due to reasons whatsoever, then the Level-1 team member registers a trouble ticket with the Level-2 support team in a multi-tenant managed support platform (MSP) that is hosted for Bhojpur Consulting and/or strategic accounts separately. This ITIL standards compliant, service management platform is hosted internally and pre-integrated with various management systems (e.g. CMDB, NMS, CMP). Our internal team supporting it has access to more advanced tools and knowledge about specific Bhojpur Consulting's products or services. They look into the matter more deeply and respond with appropriate answers to the Level-1 team member, who will finally communicate the resolution methods to the client.
The Level-2 support team might request for a test case so that they can reproduce the trouble in their environment, if necessary. So, the customer should be mentally prepared for such a request. The Level-2 technical support engineer might request for certain tests or remote access to diagnose the problem. In some cases, the MSP is accessible to our affiliates (e.g. support service partners) under a separate contract agreement. However, the affiliates get only limited access to the software application and data based on assigned roles. To comply with the Cloud data residency requirements and assure high-availability, we host several MSP instances local to the geography. All the database is securely replicated synchronously across availability zones within the same region.
Whenever our Level-2 support team is unable to resolve a reported problem due to reasons whatsoever, then the Level-2 support team member registers a trouble ticket with the Level-3 support team internally, who has highest level of expertise about specific Bhojpur Consulting products or services. Typically, they belong to either our hosting services, system integration, research & development, and/or technical publication division. They are highly skilled technology specialists. This team gets full access to a completely proprietary toolchain and global operations management platform (OMP) that is built using multiple software and hardware tools. This platform manages our edge-aware, multi-cloud, hosting services. It is not accessible directly by any affiliates or strategic accounts. It is pre-integrated with logging, observability, analytics, notification, and On Call platforms. Based on our past experience, we have enabled rule-based workflow automation to be able to route trouble tickets to right escalation support members of technical staff (MTS).
In an escalation situations, an enterprise customer could access our priority channel (i.e. escalation support services) by paying additional fees for super-fast response, which is based on agreed terms & conditions. Such issues are relatively low, but incurs higher support services costs due to involvement of multi-disciplinary teams within the organisation and partners.
Our B2C Level-1support team is first direct point of contact. Most of problems reported by a partner, supplier, customer related to our product or service sales order, invoice, payment transactions, goods return, refunds, and facility or network or hardware or software specific technological issues, etc. are handled by dedicated teams within global support services. This team has full access to a call centre system, which is pre-integrated with our interactive voice response (IVR) or private branch exchange (PBX) system and the following Zoho One platform tools to engage anytime, anywhere, any device.
Email support




Text Messaging (e.g. WhatsApp)

SMS-based Chat

Audio / Video Chat

Telephone Support
The CSAs have very broad technical knowledge, which helps them in narrowing down the technical issues quickly. They can resolve many system configuration related issues easily.
Our B2B
Level-1
support team

uses a Partner's Support Centre portal to provide premium support services to affiliates (e.g. reseller, partner, premium partner, strategic accounts) only.
It is pre-integrated with source code repository and provides high quality managed support based on
It integrates with strategic partner's ITSM system through B2B service gateway servers
.
Our Level-2support team is your second line of defence to get technical support related to the Bhojpur Consulting's products, services, and solutions. This team uses more advanced tools to diagnose a reported problem. They have access to following software to engage with you.
Audio / Video Chat

Screen Sharing

Remote Assistance
They can remotely login, if permitted, to your target systems to look deeper into situation and try to resolve the issues. Even though all of our remote assistance systems are redaction enabled to hide personal information, but we do recommend to hide all of your personal data during any screen sharing session.
An assigned

Level-2

technical support engineer (TSE) will send an Email with a suitable URL to

click-n-join

the remote session. A small footprint software will be installed on your system, if unavailable, then TSE can take over control and browse through needed information to fix the problem.
You can also voice / text chat with TSE to guide them appropriately while the issue is being investigated using a remote session.
In some case, we engage highly experienced affiliate TSEs under contract terms & conditions and after a formal orientation programme. Such experts work with us on a long-term basis only. They must undergo a comprehensive technical training about ITIL-standards and MSP and other IT systems during induction.

Generally, the client does not get direct access to our
Level-2
technical support engineers. In fact, they work very closely with the
Level-1
support team.
Our Level-3support team comprises of technical specialist. Apart from more advanced knowledge and access to very powerful tools and technologies related to their domain of specialization, they have access to following software to engage with you.
Screen Sharing

Remote Assistance



They interface with

Level-2

support team members only. They try to simulate a trouble in research and development labs to understand it deeply before finding a suitable fix for issue under investigation.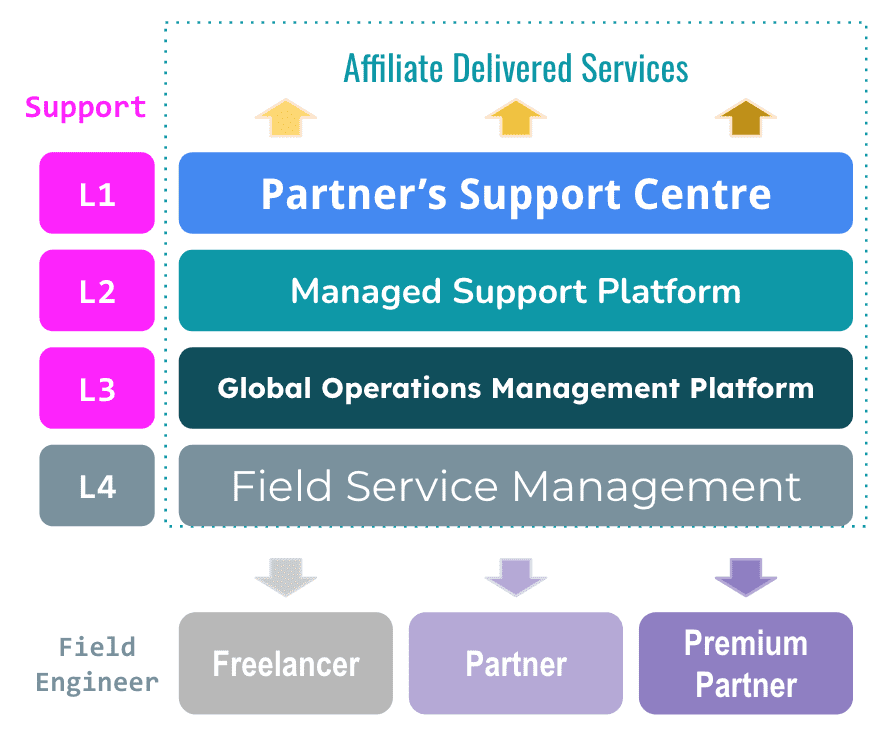 Using global OMP and FSM platform, they interface with our field services engineering staff and strategic partner's hands & field service team members in a specific geography to get trouble fixed in physical world, if required.
24x7 global reach, world class, highly experienced staff
BASIC
per user / month
online only
DEVELOPER
per user / month
online only
BUSINESS
per user / month
online only
ENTERPRISE
per Consultant / month
offline + online available
Our philosophy of imparting knowledge to any novice learner could be described in three simple stages. Initially, we deliver very basic conceptual knowledge so that candidate gets familiar with the subject matter. Later, we start developing more advanced skills related to the technology domain in the training context. These skills are gained through regular practice over more complex problems. Finally, we challenge the learner with more advanced use cases to be able to find the scenario in which knowledge gained must be applied. We believe that clear understanding must be gained ultimately to be useful in real world scenarios.

We provide online and classroom training courses targeting
Novice Learners

Experienced Professionals
We have specialists in the following areas
Project & Portfolio Management

Enterprise Architecture

Distributed Cloud Computing

Enterprise Mobility

Cloud Security

Internet of Things
We apply global experience, industry's best practices, broad business knowledge, and exposure to different vertical-specific scenarios while solving your business or technical problems using a software-driven framework that has matured over the years after applying it repeatedly in multiple client engagements. During this course of time, we have developed close connects with industry leaders, market analysts, professional practitioners globally. We built a large pool of knowledge assets, solution accelerators, supporting technology platform, and assembled a virtual team of professionals available for consultation from different parts of the world.
Our team can consistently deliver successful programs related to digital transformation. We have experienced professionals who engage with C-level executives and all the key decision makers involved in a strategic initiative using a unique consulting service delivery methodology driven by executive advisory centre (EAC) platform. Typically, it is available to key strategic accounts only. Your information is completely secure and treated with confidentiality agreements. All the program related online forms, workflow automation blueprints, communication methods, project activities or tasks, service level agreement (SLA), and necessary security controls are pre-programmed in the system already. It guarantees that entire team contributes securely, according to pre-defined goals, and delivers results in a timely manner.

Enterprise Digital Transformation
Using proprietary toolkit, we provide a comprehensive collection of strategy advisory services related to enterprise Digital Transformation. Our selected inter-disciplinary team of highly professional consultants have gained significant industry experience in different functional, technical, and legal areas. Apart from having complete and latest knowledge about our own products or services through continuous training, these consulting team members have developed very diverse service capabilities to apply some market leading enterprise products. After a short assessment cycle, they can suggest you a suitable strategy to change the organisational practices, then evolve your business over time with measurable gains.

Our methodology involves re-looking at every aspect of your business from a completely new perspective. We evaluate and advise a custom made strategic roadmap prior to any implementation to suit your business requirements. Also, our professional consulting team is not biased at all with regard to suggesting any of our products or services during any engagement. The team members are completely free to suggest any market leading product that suits customer's business needs. They have absolutely no sales targets from the Bhojpur Consulting side. Please be assure that you will get the best advise possible.

You can book an appointment with our highly experienced management consultants, technology experts, or legal advisor any time through our online booking system. We are available for face-to-face meetings, if required. Our professionals operate globally on wide ranging complex project engagements along with a distributed team connected through unified communications & collaboration platform.
We provide strategy advisory services to small, medium, and large Enterprises across the globe to achieve optimal business & service agility.
We support you during following activities
Assessments - Capability Maturity Model

Strategy Design - Digital Transformation

Products & Services Catalog Design

Marketing / Sales / Service Cloud Design

Transformation Program Management

B2C / B2B / B2B2C - Growth Delivery
We offer strategy advisory services related to emerging digital technologies (e.g., Enterprise Mobility, Cloud Computing, Blockchain, Security, Software Defined Networking, Big Data & Analytics, Artificial Intelligence, Internet of Things / Machine-to-Machine, Social Networking, Quantum Computing, and so on).
We support you in the following activities
Drafting of Request for Proposal / Quote / Information

Technical Requirements Gathering

Complex System - Architecture & Design

Cost Optimization & FinOps Strategies

End-to-End System Testing

Hybrid IT & Network Managed Support
We provide legal advice related to new technology development, adoption, and its monetization in API driven economy.
We help during the documentation process for
Contract Reviewing & Negotiation

Drafting of Customer or Supplier Contracts

Employment Contracts & Policy

Trademark / Copyright / Patent application filing

Different kind of insurance schemes
While building complex technology products for the world, we encountered situation to find right human resources to fulfil our internal requirements. The recruitment management team developed a comprehensive database of potential candidates with broad skills. The conducted interviews, received feedbacks, and initiated background verification checks to filter. We do leverage these information resources to cater to our own needs internally. Additionally, we provide highly experienced Human Resources to clients on a case-to-case basis to support their projects, if required. For example, the technology DevOps centres (TDC) or business process outsourcing (BPO) groups utilize this candidates database to quickly assemble a project team.
We have a large pool of Human Resources available in different skills. For example
Project Managers

Enterprise Architect

Software Developer
We have a large pool of Human Resources available in different skills. For example
Enterprise IT systems

Enterprise Network

Telecom Networks

Enterprise Security

Telecom Security